Have you ever been afraid to go to the dentist? Or make a specialty appointment with a periodontist?I know I sure have. There are so many scary tools just laying all over who knows what they are going to do! Some of the tools are sharp and have hooks and look like they came straight from a mid-evil torture chamber. If only they would put those darn things away! The folks at Periodontal Associates understand that there are many reasons that you may be avoiding the chair at the dentist office. Unfortunately this can lead to serious oral health issues such as gum disease, in which case it is absolutely essential that you contact a periodontist. If you are feeling weary of making an appointment do not feel like you are alone or that nobody will understand because someone does. That someone is Periodontal Associates. Read what they have to say about dental anxiety:
The overwhelming fear of dental appointments can be a common cause of anxiety. Many people visualize a drill-wielding man in a white coat just waiting to cause pain and remove teeth. The reality, however, is very different. The comfort, relaxation and happiness of the patient are embedded deep at the heart of any good dental practice. The staff at the practice will do whatever they can to reduce anxiety, allay fears and provide painless, quick treatments. Recent technological advancements have meant that in many cases, dentists are able to replace noisy drills with painless laser beams. There are also a wide variety of safe anesthetics available to eliminate pain and reduce anxiety during routine appointments. Here is a list of some of the most common dental fears:
Fear of embarrassment about the condition of teeth.
Fear of gagging.
Fear of injections.
Fear of loss of control.
Fear of not becoming numb when injected with Novocain.
Fear of pain.
Fear of the dentist as a person.
Fear of the hand piece (or the drill).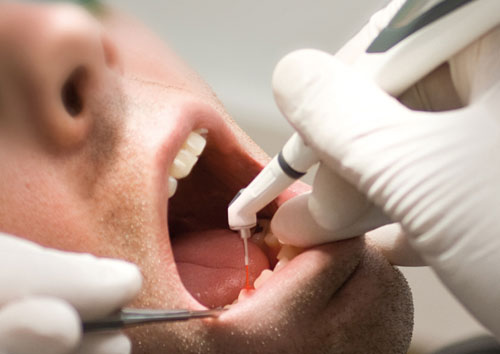 I know that I have a lot of these fears on the list. I am very afraid of needles and I pass out almost every time I get a shot. So fear of any sort of injection, especially in the mouth is quite terrifying to me. I have also had a very bad experience with not going numb when injected with Novocain and I will never ever subject myself to something like that again. I also have a fear of pain and the drill.
Even though I have all of these fears I know it is still necessary to make regular dentist appointments because what I am most afraid of is contracting gum disease and multiplying my fear factors. I know that if I go to the dentist and take care of my oral hygiene at home I can avoid having to go through any more trouble. At Periodontal Associates the periodontists and hygienists are well aware of any of the fears that you might have and they go out of their way to make you feel comfortable and make sure you know that you have options. Don't let your fears stand in the way of a happy smile!